Childeric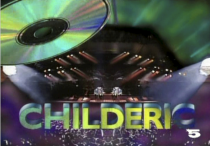 Titre :

"Childeric"

Catégorie :

Musique

Présentation :

Childéric Muller

Production :

La Cinq / VCF

Réalisation :

Massimo Manganaro

Diffusion :

Les Dimanches à 14h20.
1ère émission le Dimanche 20 Septembre 1987 / arrêtée le Samedi 25 Juin 1988.

© La Cinq 1987 - 88
Childéric est un rendez-vous musical à destination des jeunes.
Chaque semaine, Childéric Muller reçoit les chanteurs et les groupes du moment qui se livrent à des interviews et viennent interpréter leurs chansons en public et sur scène dans un décor très "urbain" que l'on doit à Jean-Claude Riera.
Pour assister à la prestation des artistes, le public est convié à retirer ses invitations à La Cinq, 21 rue Jean Goujon à Paris.
Chaque semaine, Childéric donne sa chance à de jeunes talents, opposés en duel et venus interpréter leur titre, ils sont ensuite départagés à l'applaudimètre.
Les sponsors de l'émission, successivement les shampoings Timotei et Coca-Cola, offrent la possibilité de remporter des baladeurs Laser ou un scooter en répondant correctement à la question de l'animateur en fin d'émission.
Lors de son lancement, l'émission est programmée à l'intérieur de la case Dimanche 5 (ndlr), présentée par Guillaume Durand.
Les invités de la première, le Dimanche 20 Septembre 1987 étaient : Indochine, Luna Parker, l'Affaire Louis Trio, Stephan Eicher, Jil Caplan, Animo, les Porte Mentaux et Marie-Josée Alie.
À partir du 6 janvier 1988, l'émission Childéric de 45 minutes est programmée le Samedi à 16h10 et rediffusée le Mercredi à la même heure.
Le Multitop Nuggets, le classement des meilleures ventes chez les disquaires Nuggets, initialement intégré à Childéric, est programmé à part, le Mercredi et le Dimanche à des heures qui varient entre 9h20 et 10h50.
Au cours de l'année 1988, plusieurs émissions spéciales consacrées à un artiste en particulier ont été programmées, avec notamment A-ha, Julien Clerc, Eddy Mitchell, Catherine Lara, Philippe Lavil, Anthony Delon et une spéciale Restos du coeur.
Sources Télé 7 Jours / Télé Star / Le Figaro TV - 1987-88 - Crédit photo La Cinq - Unité de programme Marie-France Brière
+ d'infos sur "Childéric"
Artistes présents sur le plateau de l'émission :
- Dimanche 20 Septembre 1987
Invités : Indochine, Jil Caplan, Stephan Eicher, L'Affaire Louis'Trio, les Porte Mentaux, Animo, Luna Parker, Marie-Josée Alie, DC4.
- Dimanche 27 Septembre 1987
Invités : Guesh Patti, Léopold Nord, David Hasselhoff, Passé Simple, Holly Cat, Jill Jones, Marie Chevalier, Juliette et les Indépendants.
- Dimanche 1er Novembre 1987
Invités : Raft, George Mickael, David Hallyday, Marc Lavoine, Elie Medeiros, The Banned, New Delit, Les Matadors, Raga.
- Samedi 9 Janvier 1988
SPECIAL JULIEN CLERC. Invités : Marc Lavoine, Blues Trottoir, Marc Seberg.
- Samedi 6 Février 1988
SPECIAL RESTOS DU COEUR. Invités : Véronique Colucci, Smaïn, Touré Kunda, Nick Kamen.
- Samedi 13 Février 1988
SPECIAL ANTHONY DELON. Invités : A cause des garçons, Alain Chamfort, Samantha Fox, Charlie makes the Cook.
- Samedi 5 Mars 1988
SPECIAL CATHERINE LARA. Invités : Mori Kante, Jacques Dutronc.
- Samedi 19 Mars 1988
SPECIAL PHILIPPE LAVIL. Invités : Ralph Thamar, les Calamités, Bill Baxter.
- Samedi 26 Mars 1988
SPECIAL EDDY MITCHELL. Invités : Dani, Carte de Séjour.
A la même heure sur les autres chaines :
Le Dimanche à 14h20
TF1 : Ushuaia (magazine)
A2 : Le monde est à vous (jeu)
FR3 : Sports Loisirs (sport)
Canal+ : Programme crypté
M6 : Fan de ... (jeu / musique)
Le Samedi à 16h10
TF1 : La Une est à vous (série)
A2 : Samedi Passion (sport)
FR3 : Espace 3 (magazine)
Canal+ : Programme crypté
M6 : Danarama (musique)
Sources Télé 7 Jours / Télé Star / Le Figaro TV - 1987-88 - Crédit photo La Cinq - Unité de programme Marie-France Brière
ZAPPING